Replace That Tired Patched Vinyl Pool Liner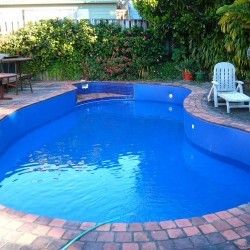 Replace That Tired Patched Vinyl Pool Liner
We recommend Aqualux Vinyl Pool Liners that are manufactured in New Zealand by Aquatech.
Because of this, we can custom manufacture a pool liner, in your choice of colour, material thickness, even a patterned liner if you chose, to the specific measurements of your swimming pool.
Are you worried about the old coping stone needing to be removed and maybe no replacements being available now, no need to as now there are a series of liner clips, that can attach to the pool wall under the coping.
We can even provide a softer smoother touch by fitting panel pad behind the new liner.
---
Our Retail Shop provides a free comprehensive Computerised Water Analysis; each individual step by step printout is thoroughly explained by our highly trained staff.

Find us at:
58 Market Road
Remuera
PO Box 99-713
Newmarket, Auckland
RETAIL TRADING HOURS are:
8.00AM - 5.00PM Monday - Friday
9.00AM - 2.00PM Saturday
Sunday - Closed

Link to: Finding us - map and directions